Today is a red-letter day, folks! My all-time favorite "artist" is releasing a new album!

When I was a little girl, my mom gave me my first allowance, and I rushed right out to the

RECORD STORE

and purchased Weird Al Yankovic's BAD on vinyl. I still have it to this day!

I will be purchasing Straight Outta Lynwood as soon as I can get myself to a store today!

For a peek at one of the videos, go here. Be patient; it is a little slow loading up, but well worth the wait!

For all of you Weird Al and Glenn Beck fans, here's a money shot! ;)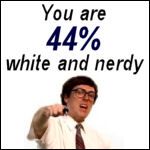 How White and Nerdy Are You?